Overview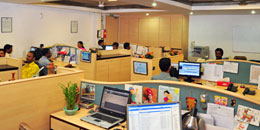 Innovation in design, quality in manufacturing, efficiency in process and timeliness in delivery are attributes that have put Renaissance Global Ltd. in a position of distinct market leadership in the industries served.
The company presents an expansive manufacturing setup of over 160,000 sq. feet spread across 6 manufacturing facilities that are manned by 4000 plus skilled employees. This set-up allows a production of close to 2.5 million pieces per annum with flexibility for convenient expansion.
Innate Quality
Quality, especially in the business of jewellery, is a fine blend of art and science. While continuous investments in technology and modernisation help in implementing the latest advances in 'science', experience and expertise take care of the 'art'. This division is extremely rich in experience, thereby adding tremendous value to the process, product and thus to the customer.
The quality policy of producing goods of the highest quality, so as to satisfy the needs of customers world-over, coupled with the Renaissance approach, is today a well accepted standard that has successfully catered to the most demanding requirements, globally. This well documented, tried and tested quality system, has made quality innate in the manufacturing process. The role of quality control thereafter is redefined to be a mere conformance check for quality.
Technology
The large scale production is well supported by latest in technology - state-of-the-art rapid prototyping machine being the recent additions. Production equipments also include laser assaying machines to check for correct karatage, new age soldering machines for quality assembly, laser marking machines for fine stamping or for that matter, the pioneering initiative relating to gold refining, rotating burnout furnace and latest casting machines.
The nimble footed approach assists in convenient adaption of the latest in technology that helps sustain the position of distinct leadership.
Synchronized Operation
A result of diverse experience, culled over decades, is a totally synchronised business process which well fathoms market requirements and trends and then translates the same into an efficient manufacturing process. A customized ERP solution further empowers the company to effectively monitor the production process, right from timely inventories to timely dispatches including an online order-tracking facility.
Innovation and Design
This division of the company continues to see sizeable investments so as to create products that bring the elements of variety, appeal which is, of course, expected from a company like ours. Ability to consistently produce over 750 quality models a month - a result of the latest techniques and technologies, well executed by a team of over 50 qualified and experienced designers and over 60 skilled model makers – continues to be a big strength.
Global Footprint
Be it sourcing or sales…with Renaissance Global Ltd. it is always a matter of global footprint; be it marketing and merchandising from the United States, designing and models making from China or for that matter tapping the intellect pool of CAD/ CAM talent and low cost manufacturing from India. The result is exquisite jewellery today, tomorrow, forever.